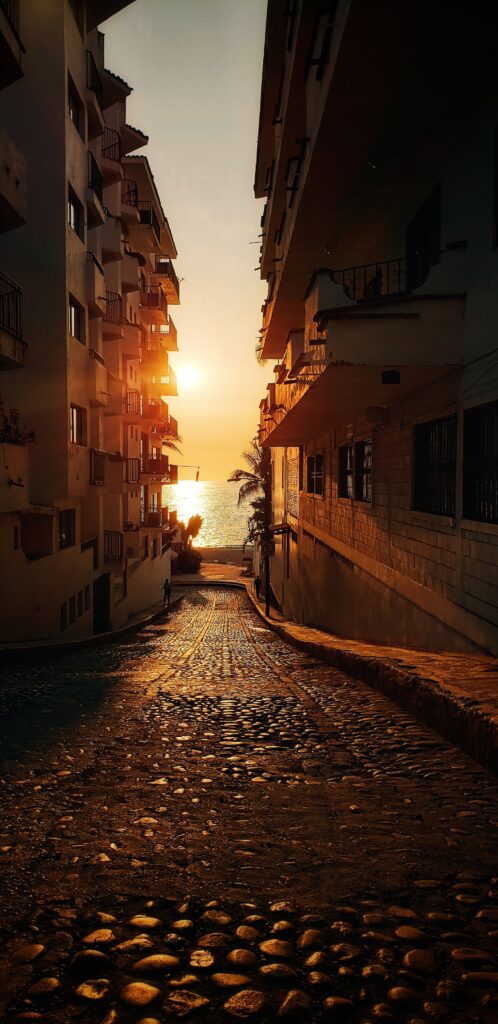 Have you ever wondered what it would be like to immerse yourself in the essence of Puerto Vallarta for a full day? Today, we will take you on an adventure from the first ray of sunshine to the last star in the sky. But be patient, there is a secret waiting at the end of the tour that will make this experience even more special.
Thank you for reading this post, don't forget to subscribe!
Dawn on the Beach.
Waking up in Puerto Vallarta is a gift of nature. The soft melody of the ocean and the sea breeze touching your face will welcome you to a new day. Your stay in a cozy boutique hotel makes the experience even more enchanting.
Discovering Puerto Vallarta.
After a revitalizing breakfast, it's time to venture out. Puerto Vallarta is a paradise of colors and flavors to discover. Walk along the vibrant Malecon, the essence of Puerto Vallarta. Admire the sculptures, explore the local art galleries and be amazed by the iconic Parroquia de Nuestra Señora de Guadalupe. Strolling through the cobblestone streets of Puerto Vallarta is the perfect way to absorb its charm and authenticity.
Delights for the Palate.
When the sun reaches its highest point, it's time to delight your palate. In Puerto Vallarta, gastronomy is an adventure in itself. From seafood restaurants overlooking the ocean to elegant bistros in the heart of the city, there is an infinity of flavors waiting for you. Don't forget to try the fish a la talla, a local specialty that will make you fall in love.
An Afternoon of Beach and Fun
The dessert of your meal should be a relaxing afternoon at the beach. Puerto Vallarta's beaches are famous for their beauty and variety of activities. Whether you want to sunbathe, do yoga, surf or paddleboard, you'll find the ideal space here. Adventure lovers can also explore Puerto Vallarta's marine life through snorkeling or scuba diving.
The Night is Dressed up for the Party.
At nightfall, Puerto Vallarta changes its face. Nightclubs and bars light up with colorful lights, live music and passionate dancers. The nightlife here is vibrant and diverse, and each place offers a unique experience. However, if you prefer a more relaxed atmosphere, a walk along the Malecon under the moonlight can be a perfect alternative.
Rest at the Hotel
When the stars appear in the sky, it's time to return to your cozy boutique hotel called Casa Maria. After a day full of excitement and discovery, you need to recharge your batteries. At Casa Maria Hotel Boutique we are famous for our intimate and personalized atmosphere, which guarantees a peaceful and restful rest. And here comes the secret we promised at the beginning: there is something magical in the Puerto Vallarta night, something you can only experience when staying at Casa Maria Boutique Hotel. Do you dare to discover it?
This 24-hour tour of Puerto Vallarta is just a small sample of everything this destination has to offer. Its natural beauty, vibrant culture, delicious gastronomy and the warmth of its people are waiting for you to live an experience you won't forget. Come and discover Puerto Vallarta, where every day is an adventure!